This guest post is brought to you by Rob Lindeman of Sleep, Baby! He is a sleep coach, entrepreneur, and writer living in Massachusetts.
How to Do Bedtime Fading: Best Sleep Training Method?
The so-called "cry it out" techniques for sleep training are getting a lot of attention. Meanwhile, there is another method that gets very little press, but which is highly effective. It's called "bedtime fading".
What is Bedtime Fading?
Bedtime fading is a method for teaching a child to fall asleep that is based on a simple principle: a child who is not tired will not go to sleep!
Babies and children are famous for "fighting" bedtime. Parents tell me that their child "fights" sleep. Or they tell me the child fights the parents at bedtime. The truth is that the child is fighting neither sleep nor the parents. She is fighting the time. She isn't ready to sleep yet. Forcing the baby to bed earlier than she wants to is a recipe for conflict. Worse, the baby may develop negative associations surrounding sleep. This is never a good thing.
The Three Key Features of Bedtime Fading
One key feature of bedtime fading is finding the child's "natural" time of sleep. This is presumably later than the perplexed parents want, but it's what the baby wants. There are a couple of ways of finding out what the natural time of sleep is. See "The Bedtime Fading Technique" below.
Another key feature is "sleep onset latency". This is nothing more than the amount of time it takes a person to fall asleep after getting into bed (or the crib in this case). Sleep experts agree that it's never a good idea to have a long sleep onset latency, with a limit at about 20 minutes. Anything longer than that suggests the individual will not or cannot sleep. Ideally, you want the child to be falling asleep within 10 minutes. Less than 5 minutes, though okay, suggests that the child has a "severe sleep debt". This is another way of saying "she's totally exhausted".
The third feature are good sleep associations. We want the child to associate going to sleep with calm and quiet. We want her to feel comfortable and safe. This step is essential to teaching the child to self-soothe, and to wind herself down to sleep on her own, without assistance from caregivers.
How to Do Bedtime Fading
Step One
The first step is to determine the baby's natural sleep time. There are at least two ways to figure this out. The first is to keep a sleep diary. Parents or caregivers write down the times the child falls asleep every day. They should do this for every nap as well. Doing so provides useful information for them and for the sleep coach. The last time she falls asleep is probably the time she is "set" to fall asleep.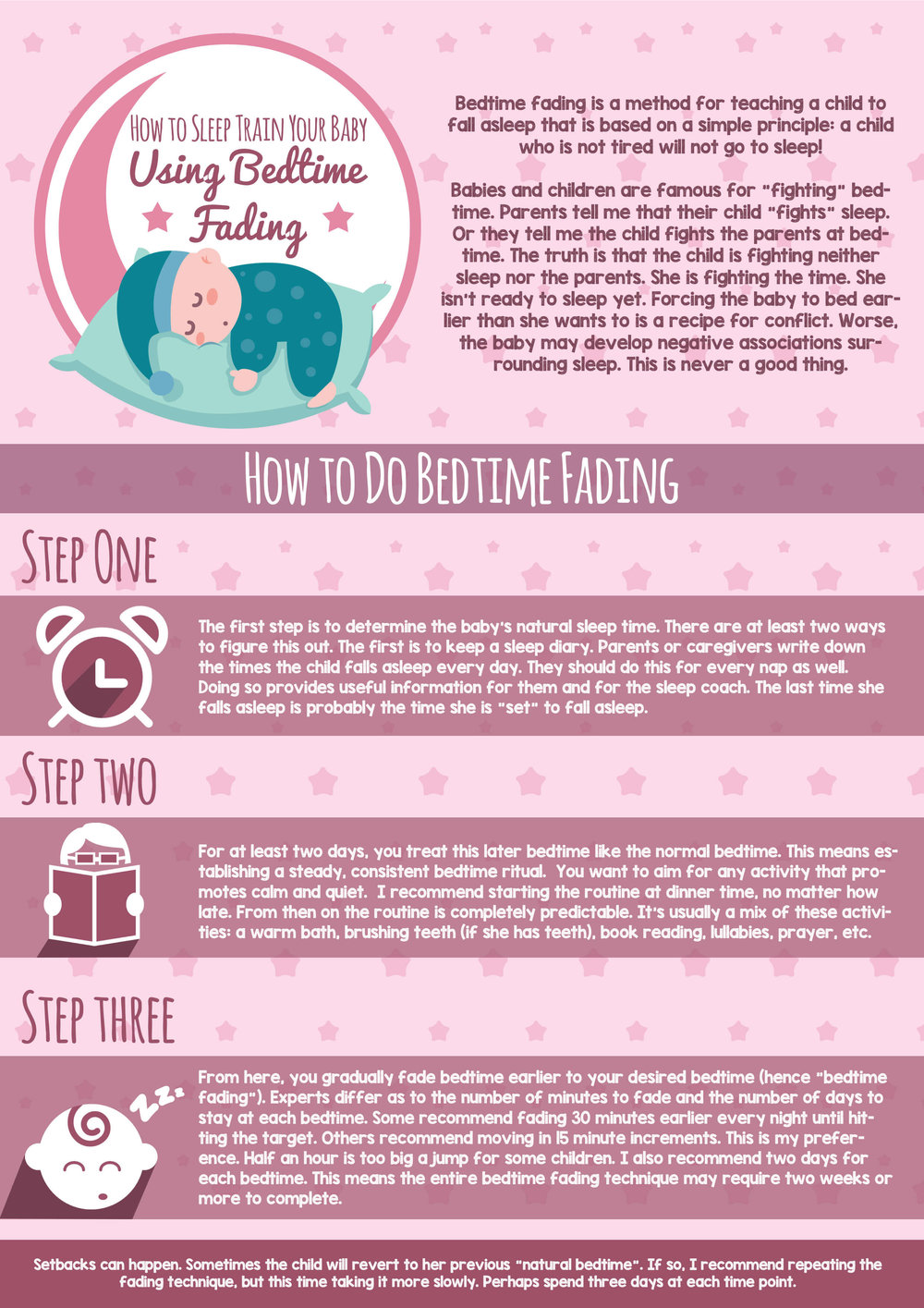 A second method for determining baby's sleep time is called the "response cost" method.
[A Digression: The official name of this method is called "bedtime fading with response cost". I never liked this expression. It's high-tech expression for a truly low-tech idea.]
It works like this: you put the baby to bed at the time you want (the desired bedtime). If the child doesn't fall asleep within 15 minutes, you remove the child from the crib or bed and allow her to play (quietly) and otherwise stay awake for 30-60 minutes. This is the "response cost" to the child. Then you try again. If the child still won't fall asleep within 15 minutes, you repeat the procedure. You do this until the child falls asleep rapidly. Now you've found the child's natural bed time.
Step Two
For at least two days, you treat this later bedtime like the normal bedtime. This means establishing a steady, consistent bedtime ritual. You want to aim for any activity that promotes calm and quiet. I recommend starting the routine at dinner time, no matter how late. From then on the routine is completely predictable. It's usually a mix of these activities: a warm bath, brushing teeth (if she has teeth), book reading, lullabies, prayer, etc.
Step Three
From here, you gradually fade bedtime earlier to your desired bedtime (hence "bedtime fading"). Experts differ as to the number of minutes to fade and the number of days to stay at each bedtime. Some recommend fading 30 minutes earlier every night until hitting the target. Others recommend moving in 15 minute increments. This is my preference. Half an hour is too big a jump for some children. I also recommend two days for each bedtime. This means the entire bedtime fading technique may require two weeks or more to complete. It is well worth the effort.
Setbacks can happen. Sometimes the child will revert to her previous "natural bedtime". If so, I recommend repeating the fading technique, but this time taking it more slowly. Perhaps spend three days at each time point.
Other children might fall asleep well as a result of a successful bedtime fading campaign but will continue to wake up frequently at night. In this case, many experts recommend using an extinction method (since we don't want to call it by its more infamous name. Okay, okay: cry it out.)
This is Great! How Come I've Never Heard of It?
Good question. Here's a baseball analogy: Say your team has a power hitter batting in the clean-up spot (fourth in the order). He's having a monster year. By the end of April he already has 12 home runs. People are already starting to compare him to Barry Bonds or even Babe Ruth. Camera crews follow him to every ballpark. He's all they talk about during the sports segment on the evening news. Meanwhile, the guy hitting in front of him (the number three hitter) is quietly having a career year. He's in the top 5 in just about every offensive statistical category. Why? Because pitchers don't want to face the monster following him. So they throw strikes to the number three hitter, trying to get him out. And instead of getting him out, he's getting hits. But no one pays attention because the monster sucks up all the headlines.
That's kind of like what's happened to bedtime fading. Extinction methods are like the home run hitter hitting clean-up. Bedtime fading is like the number three guy racking up all the amazing numbers that no one notices. Bedtime fading is an amazingly successful technique that is based on all the principles we know are essential for good sleep: a tired child, consistency, routine, and good sleep associations.
---
Pam Edwards is a Certified Infant & Child Sleep Consultant and founder of Wee Bee Dreaming Pediatric Sleep Consulting in Kamloops, BC. Healthy sleep is addicting and she has made it her life mission to help families all across the world get the sleep they deserve – a good night's sleep doesn't have to be a dream!